I was asked recently if I could copy a teaching resource from a CD-ROM onto a laptop computer. This particular program is mostly HTML with some embedded videos. There were 2 problems with running it from a local shortcut.
1. Internet Explorer security warnings
2. The full-screen window is launched by a parent browser window which then sits on top of the full screen window and has to be closed when the full screen window is exited
Both of these are only annoyances rather than critical failures, but a complete solution involves fixing these kind of things. Finding a solution was a little tricky, but once the solution presented itself it was very simple.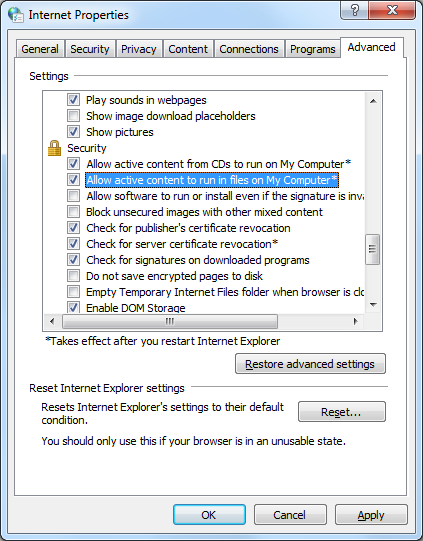 To address the security warnings requires changing an option in the 'Internet Options' control panel. Under the advanced tab scroll down to the "security" options and tick the option "allow active content to run in files on My Computer*"
To address the pop-up issues requires a small adjustment of the JavaScript code that launches the full-screen window. The following code will launch a new full-screen window and close the parent window without any prompts…
[javascript]window.open("","_self","");
window.close();
window.open("container.html", "popup", "fullscreen=1, left=0, top=0, menubar=no, resizable=no, status=no, scrollbars=no");[/javascript]
Credit to phdcc for the code
Think we've missed something? Let us know by commenting below. If you would like to subscribe please use the subscribe link on the menu at the top right. You can also share this with your friends by using the social links below. Cheers.